Header Skipped.
Inspiring Patient Stories
We invite you to meet actual patients who have experienced the real-life benefits of Mass General Brigham Home Care. They have welcomed us into their homes, and we in turn have helped them maintain their independence and regain their physical and emotional strength.
We help these individuals – and numerous others like them – find the strength to live safely and comfortably in the place they know best, by doing what we do. See what makes our care – and our patients – unique.
Nancy

Therapy at home after knee replacement surgery enabled Nancy to go home sooner and gave her the strength and confidence to get back to her former self and gain back independence.

Ana & John

With the help of Mass General Brigham Home Care, Ana returned to the comfort of her home following surgery.

Bill

Thanks to his home care nurse, Donna, Bill's blood pressure is now under control. Donna worked closely with Bill's doctor to get his medication and care plan just right.

Sally

Home healthcare therapists, Kelly and David, helped get Sally back on her feet after a hip replacement. See how they helped her get moving, safely improving her mobility and relieving her pain.

Meredith

Diagnosed with an L-1 burst fracture and mid-sternum fracture, Meredith underwent a nine-hour surgery that fused her spine and returned some function to her quad muscles but could not restore her mobility. After inpatient rehab helped her regain the ability to walk, she returned home and receives IV and nursing care from Mass General Brigham Home Care.

Wanda

After a hospital stay, Wanda needs to receive medication intravenously (IV). Her nurse Iesha makes it possible to have her IV therapy at home, avoiding return trips to the hospital for weekly treatments.

Holly

As her ALS advances, Holly's ability to take care of many of herself has become increasingly difficult. Carolyn, her home health aide, makes sure Holly's daily needs are met with care and compassion.

Henry

After Henry had surgery on his wrist and hand, his therapist, Donna, helped him perform proper wound care and showed him how to manage his pain while he regained mobility.

Genevieve

Suffering from a chronic liver disease and eventual liver transplant, Genevieve and her parents took many trips to the emergency room. Now, with home visits from Carmen, her Mass General Brigham Home Care nurse, their quality of life has improved dramatically.

Frank & Kathie

Thankful for Jill's care, Frank decided to make a donation in her honor. When he told his wife Kathie about his gift, she responded with, "I'll match that!"
Start feeling rewarded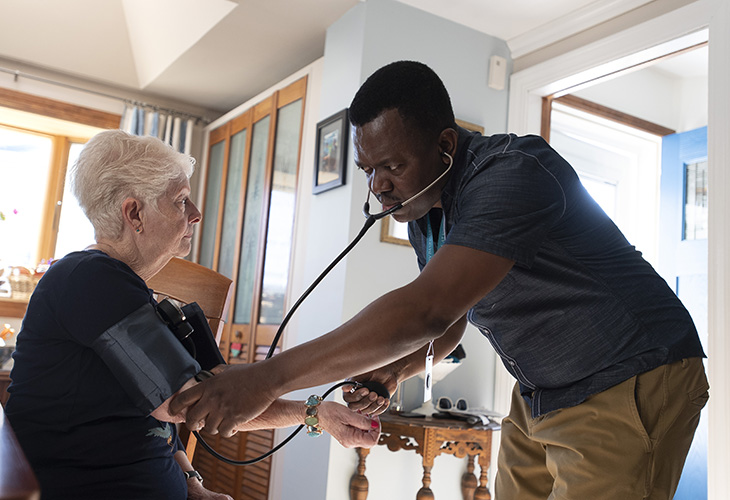 Join one of the most trusted names in home healthcare and start doing what you do best.
Ready to get started?

If home healthcare is the right choice for you or a family member, or if you are a healthcare professional looking to refer a patient, give us a call. We're here to answer your questions and you make a seamless transition.
(844) 744-4200