Header Skipped.
Why Work for Mass General Brigham Home Care?
Technologies, once available only in the hospital, allow us to offer a premium level of care at home. These services are leveraged by a network of qualified clinicians who deliver care designed to meet the unique needs of each patient, with the goal of optimizing independence and quality of life.
Employee Value Proposition
Many minds, one heart, together we will make healthcare better.
Total Rewards
Compensation
Market based pay
Pay based on experience compared to peers
Annual merit increase
Regular market reviews of salary ranges
Employee Referral bonus program
Benefits
Health, Dental & Vision
Retirement – Cash Balance & 403(b)
Company paid Short Term Disability
Voluntary Long Term Disability
Paid Time Off
Fitness Benefit
PERKS employee discounts
Employee Assistance Program
Career Progression
Learning & Development specialist led programs
Award winning orientation program
Tuition assistance
Continuing Education and professional development support
Special funding support for BSN/MA at Southern New Hampshire Univ.
MGH Institute Partnership
Recognition
We recognize staff for contributing for our core values Innovation, Collaboration, Accountability, Respect & Excellence
Programs
Partners In Excellence Awards
ICARE Awards
WAMBI program & awards
Employee Service Awards Luncheon
Above & Beyond Recognition in employee newsletter
Home Care Month celebrations
Culture
Mass General Brigham Home Care staff report these strengths:
The work I do makes a real difference
The person I report to treats me with respect
There is a climate of trust within my work unit
I see every patient/client as an individual person with specific needs
Mass General Brigham Home Care staff participate in:
Diversity & Inclusion Council
Performance Improvement Committees
Patient & Staff Safety Committees
Retention Committee
Ready for your next step?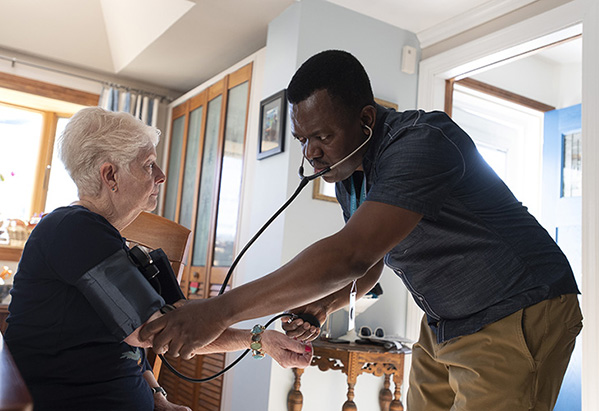 A rewarding career is waiting for you at Mass General Brigham Home Care.