Header Skipped.
Home Hospital Service
Experienced Acute Registered Nurse Opportunities
Mass General Brigham Home Care works with BWH and MGH in a collaborative partnership called Home Hospital. This service was developed in response to our patients' strong desire to maximize their time at home. When illness develops and is significant enough to require a hospital stay, Home Hospital is able to provide similar care for patients at home to avoid time in the hospital. You can think of Home Hospital as sending the hospital home with the patient. Home Hospital is more advanced than traditional home health care. Similar to hospital stays, this program offers several visits with our clinicians each day to treat the conditions until the patient is safe enough to be cared for by a regular clinical team.
Home Hospital is available to BWH & MGH patients who meet certain criteria and have conditions such as:
Chronic Obstructive Pulmonary Disease (COPD)
Skin or Soft Tissue Infection, such as cellulitis
Pneumonia
Heart failure
Post-Surgical Recovery
Urinary Tract Infection (UTI)
Supportive Oncology Care
Services:
In addition to care specific to our patients' medical conditions, Home Hospital can provide our patients with:
Vital sign monitoring (heart rate, blood pressure)
Lab testing
Intravenous (IV) fluids and medications
New medications
Oxygen
Continuous heart monitoring
X-rays
Ultrasounds
In this role, the RN supports the Home Hospital Service based either at BWH or MGH and works in a team based geography surrounding the hospitals, treating patients in that area.
Ready for your next step?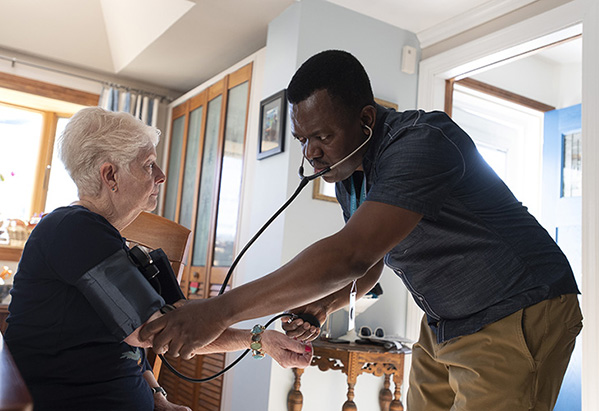 A rewarding career is waiting for you at Mass General Brigham Home Care.